Company Profile:
A family tradition with a future
---
Since 1982, "Village Weavers" has been a manufacturer and exporters of Hand Crafted Floor Coverings and all kinds of Flat Weave Carpets having both traditional and contemporary designs.
The story of "Village Weavers" began when Vikram and Khushi Jain joined their father's carpet business, a legacy that had been handed down from their great grandfather more than 30 years ago. Vikram Jain, who has an extensive expertise in carpet manufacturing and quality control, heads the organization whereas Khushi is the Creative Head and also looks after Marketing of the company.
Experience, tradition and innovation are the company's hallmark, and this guarantees the continuity of Village Weavers growth. They have met every new challenge with enthusiasm and outstanding expertise.
Village Weavers (VW) have a dedicated team of professionals who are engaged in procuring the finest of raw materials and creating the weave that enhances the beauty of all kinds of antique and modern interior.
Village Weavers make exclusive varieties of very fine quality of Kilims, Hand Painted and Digital Kilims, Turkish Kelims, Art Silk Carpets, Wool/Silk Hand Tufted, Handlooms, High/Low Pile Dhurries, Jute/Hemp, Cotton Dhurries as well as customized designer Rugs and upholsteries like cushions and poufs. Village Weavers is specialized in making Outdoor Rugs, Patchwork Rugs, Vintage Kelims and Ikkat.
Village Weavers is spread across 130,000 square feet area in Mirzapur, which includes design studio, testing labs, dyeing plant, library, weaving centers with quality control unit, and production unit spread all over the city.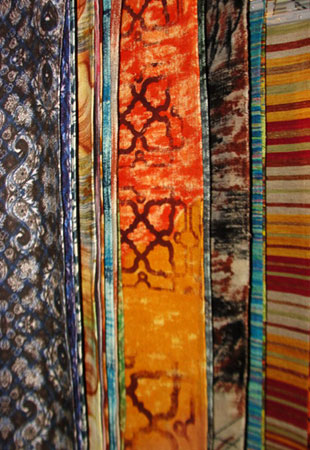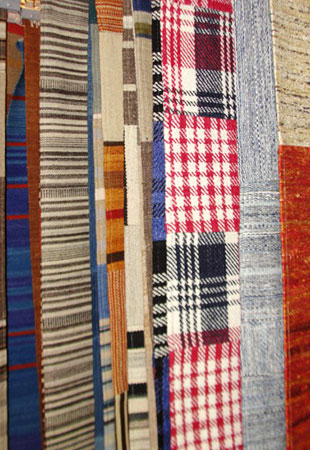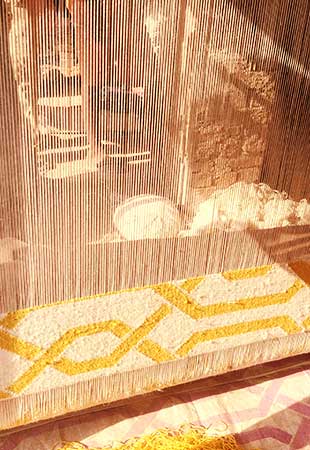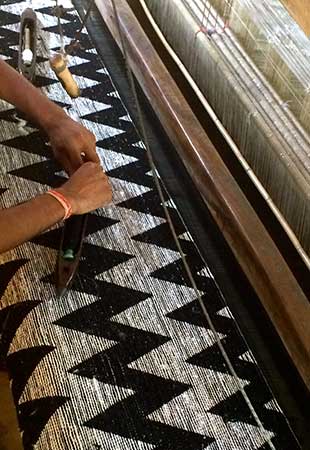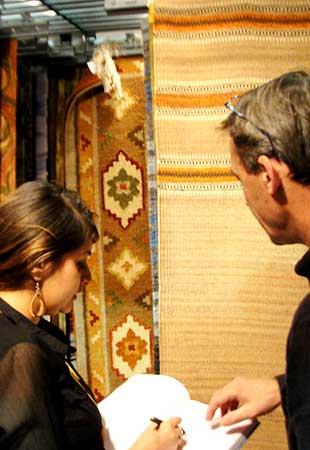 Export
Our buyers belong to many countries of continents like North America, South America, Europe, Australia, Africa and Asia. We have capacity of manufacturing 20, 000 sq. meter per month. That is the reason we are supplying to big wholesalers retailers and designers.
Production
Production of carpets is the most technical field. It starts from import of best quality of New Zealand yarns then comes spinning of the woolen yarn followed by use of the best quality dyes then weaving, washing and stretching. Later on, labeling and packing after finishing. Finally, each and every piece is inspected thoroughly by Village Weaver's Quality Control team. Village Weavers Logistics & Export team takes shipment decisions carefully to ensure timely delivery to the customers.
Social Commitment
Village Weavers strictly maintains the norms of Child Labour (Prohibition & Regulation) Act, 1986 and follow The Factories Act, 1948, for the benefits of its employees and maintains records thereof. Our employees work during working hours efficiently and we provide them leave, provident fund, bonus, medical benefits, safety, and superannuation benefits. The widows in the community are given small pensions and loans. Senior nomads who cannot weave anymore are offered work as spinners.
Policies and Order
Village Weavers believes in having long-terms association with the companies who believe in honesty and transparency in their dealing. They promote export through trade Journals, Internet and Trade Fairs. It is their commitment to provide the best quality carpets to each and every buyer keeping privacy of their designs.
Village Weavers have the policy of 25 percent advance payment at the time of placing the order and balance CAD. Village Weavers delivers the world-class product to their customer on time, as customer satisfaction is our highest priority.